Corporate workspace designers should look to coworking spaces for inspiration and influence for tomorrow's office.
W
alk into any corporate office, and aside from a logo and touch of branded style, you'll be hard-pressed to tell how it differs from any other workspace. A reception desk flanked by minimalist waiting room chairs serves as a breakwater for a fleet of gray desks with black chairs buoyed by the occasional unremarkable plant.
Step into a coworking space and the differences are immediate and overwhelming.
A long row of modernist sofas line one wall, while a stand-up, free-flowing coffee bar runs through the middle of the room. The walls are painted in bright colors and lined with art. Even the lighting is fun, with lamps and pendant lights defining different parts of the room.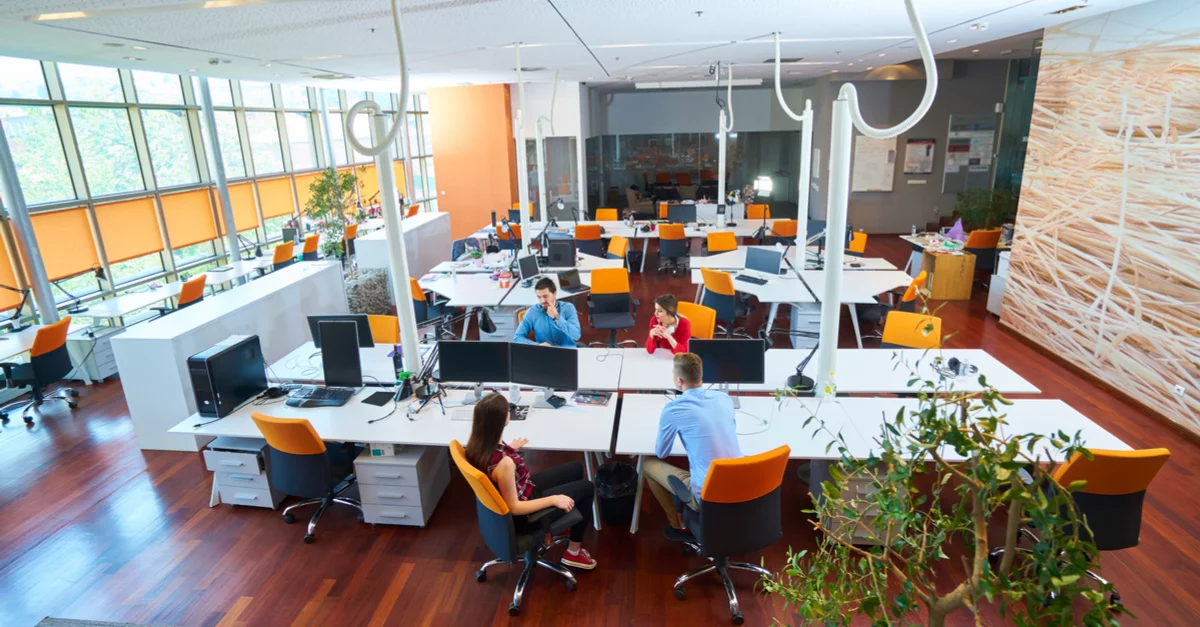 Flexible collaboration areas meld with head-down focus offices to fit mood and inspire.
C
oworking has become one of the hottest trends in how Americans work. Freelancers, entrepreneurs, remote workers, and others looking for the advantages of an office structure pay a monthly fee for the right to use communal workspaces which often include amenities like coffee and printers. And now, the space layouts and designs of collaborative workspaces are beginning to influence corporate interior designs.
Coworking spaces like WeWork (recently noted for dand Grind have to compete to convince customers to pay for memberships, so they try a little harder when they are designing their workspace.
In Madison, we've seen more than a dozen collaborative workspaces evolve over the past decade including:
As offices that serve a variety of companies and freelancers, coworking spaces don't have a set culture that they need to abide when decorating. You might want a more colorful office, but your boss has to consider the company's brand image while balancing an appropriate "fairness" with similar requests from coworkers.
Collaborative spaces are also relatively new. Since most coworking offices are only a few years old, they're more likely to have the stylistically modern furniture and design trends, while the typical office is only redecorated every decade.
Still, there are a few things that traditional offices could learn from coworking spaces.
Research published in the Harvard Business Review shows that people who work in coworking spaces report higher levels of thriving than those in traditional offices, in large part thanks to "a well-designed work environment and a well-curated work experience."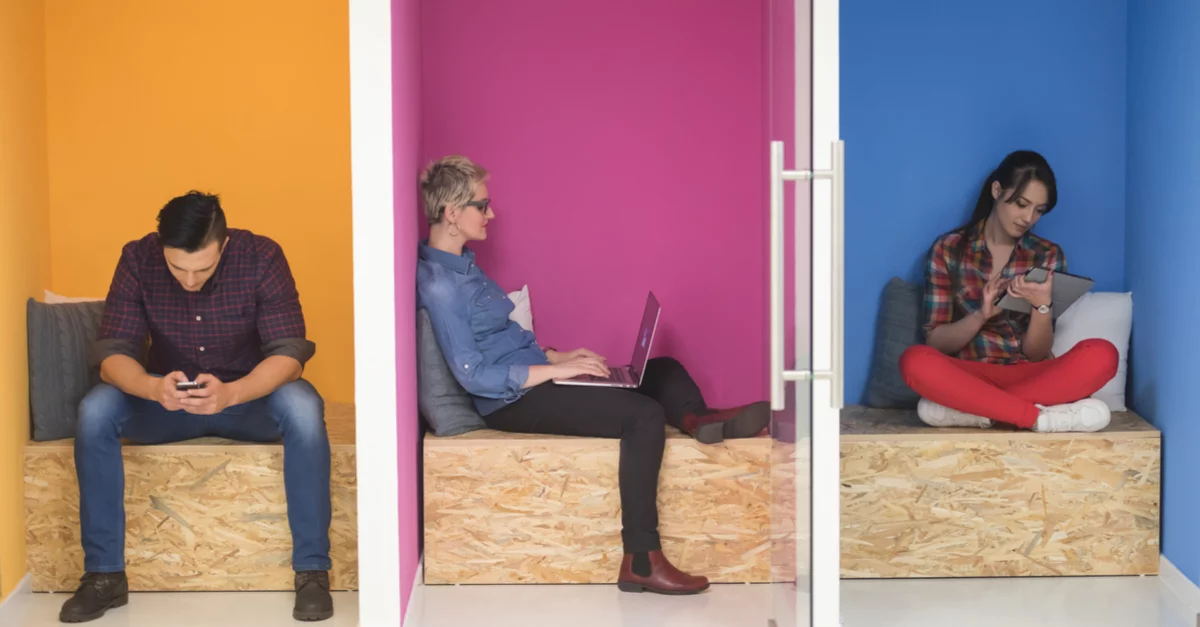 Reinventing spaces with private booths, coffee bars, or enlivened common areas can immediately and positively change office culture.
O
ne lesson is that traditional offices could use a broader variety of workspaces. Many offices tend to have standard desks, a conference room and maybe a cafeteria, while coworking spaces have sofas, high tables and nooks where small- to medium-sized groups can collaborate — or even where people can work independently without feeling isolated. Embracing interconnected spaces and office mobility encourages creativity and an occasional escape from the everyday routine.
Another lesson is that traditional offices could be less conservative with design. Brighter colors, more interesting art and more unique furniture give a workspace character and indirectly inspire workers to be more creative. In many cases, the safe design choices are actually worse, leading to a sterile environment that workers find oppressively bland.
But the most important lesson is that workers could use more autonomy. Coworking spaces provide workers with a lot of options on when and how they can work, while giving them a supportive and engaging environment when they do come in. That combination turns out to be a powerful motivator.
Until recently, coworking spaces were mainly for freelancers and start-ups, but a growing number of corporations are trying out different workplace models to boost productivity and cut costs and an ever-increasing number of them are moving their workers to coworking spaces.
Now several Fortune 500 companies are moving in. By doing so, top companies are better connecting with top talent, staying in front of the competition, and better monitoring trends in the industry.
For instance, Microsoft recently gave 30 percent of its employees in New York City memberships to WeWork locations to better tap into the startup culture.
Coworking spaces are still a niche offering in the world of work, but they are pointing the way to a future that we all might enjoy.
ABOUT US
At InteriorLOGIC, we build work environments. From our home office in Madison, WI our award-winning commercial interior design team focuses on creating spaces that work. We continually work to improve the end user experience with each design and our team is well-suited for challenging projects including LEED certification and sustainability projects. For more information about our business and approach, please visit www.intlogic.com.