Environmental Graphic Design (EGD) embraces many design disciplines including graphic, architectural, interior, and industrial design in order to connect people to place and enliven spaces.
O
ne of hottest trends in office design incorporates oversize imagery in various substrates on the building structure itself. Environmental wall graphics, also known as environmental graphic design or EGD, incorporates unique colors, textures, and iconography into workplace or public space branding. By using graphics as art, EGD turns endless eggshell finish hall walls into mood-lifting experiential zones.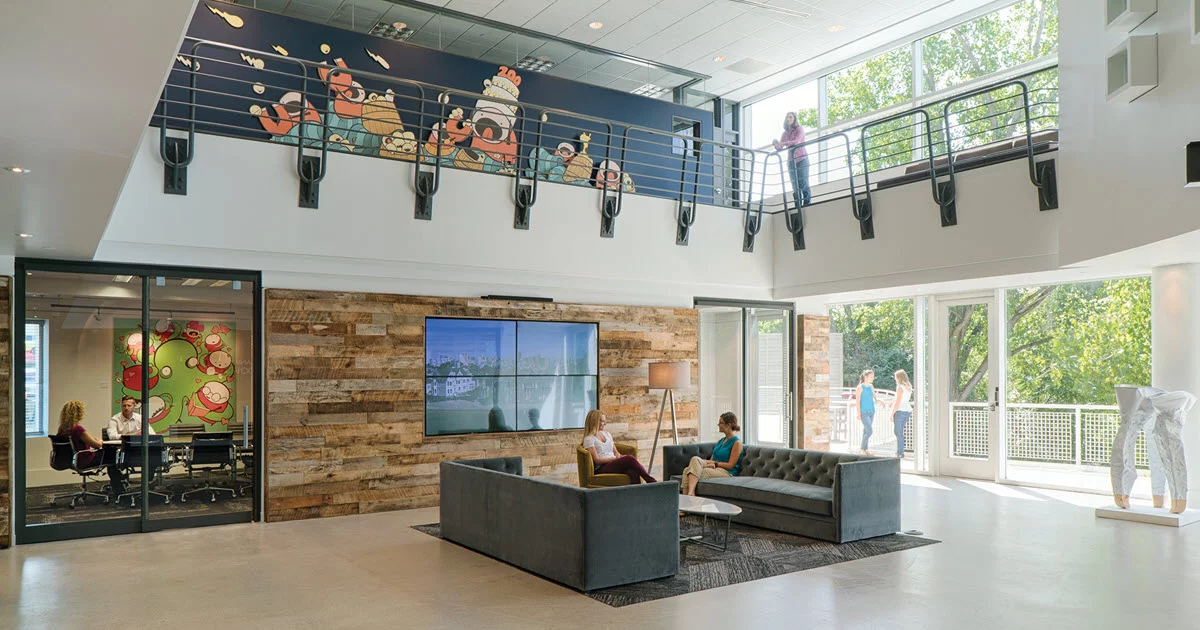 ESTABLISHING CULTURE
Providing more visibility to your office and culture helps potential clients and visitors feel engaged to your business. It's also a great way to attract and retain talent.
The first impression is always the most important, and the visual appearance of workspace can set the tone for your culture and brand. But effective environmental graphics create impressions with lasting engagement. Choosing the right colors and medium can help tell your story for you, while also lightening a space. It also sets the tone of engagement – Is this a serious place? Is it engaging? Is it happy?
The younger, newer work force that's coming has come to expect unique work environments. Millennials want to feel tied to a workplace that incorporates with their vision.
With corporate office environments becoming more open, flexible, and home-like, environmental graphic design complements the overall feel of the office. It's a way to use your work environment as a selling point.
Environmental graphics aren't just a logo on the wall, it's a conversation starter for anyone experience the space.
DID YOU KNOW?
Aside from structural designs and buildings, the world's most famous environmental graphic is the Hollywood sign. Since 1923, the iconic sign has been watching over the namesake neighborhood in L.A.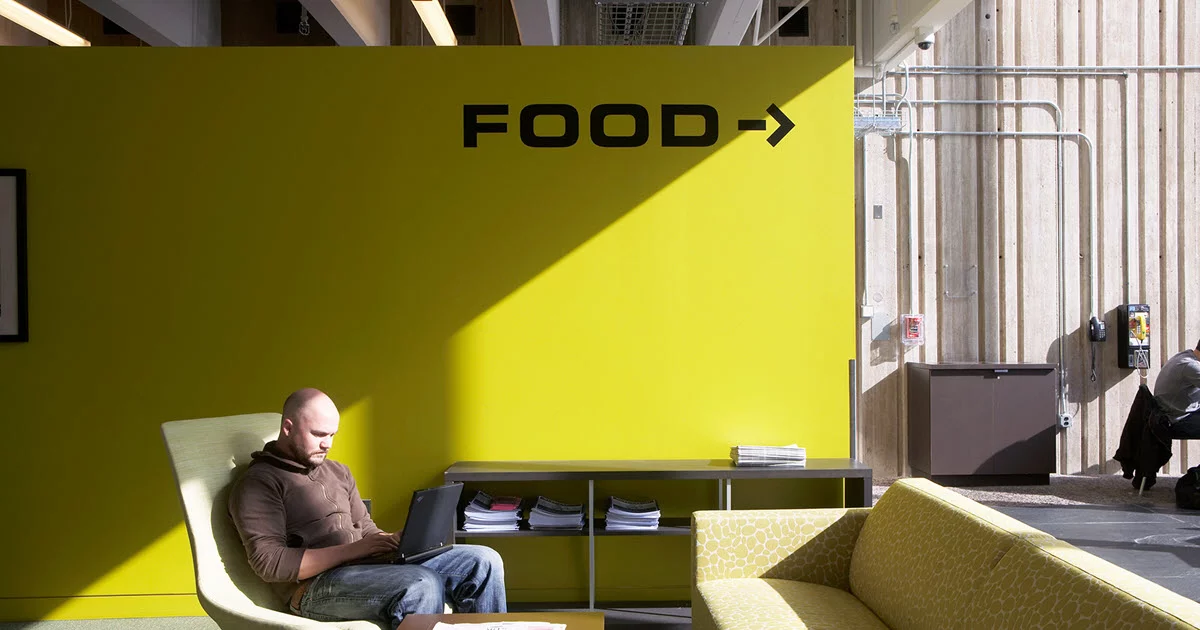 WAYFINDING
Directional signage or Wayfinding is crucial for designers to create "visual paths" through an environment. With the use of colors, iconography and design elements, visitors can easily recognize a space and train one's mind with that connection of a particular space or area to navigate from one place to another. By using themed zones throughout the hospital, the wayfinding system is easier to use and saves countless hours by allowing staff and visitors to move more efficiently throughout the building.
Recent evolutions in wayfinding have involved interactive maps, galleries, or even sounds to help with user navigation. The more spaces we encounter with EGD, the more accustomed we become to using graphics or colors rather than directional signs.
GET LOST?
Color use in wayfinding has exploded in recent years. Labeling floors with specific colors or themes can have a calming affect on people who get anxious about getting lost.
BRANDING
We all know that a logo does not a brand make. Establishing a brand takes time, repetition, receptiveness, and recognition of a common goal and mission for a company. The days of keeping a logo as a precious object have passed us by. Brands can express the fun and different character of their companies by altering and changing the implementation of their logo.
The use of environmental wall graphics for branding can move a brand from a stagnant, stuck-with-the-logo feeling to an edgy and engaging medium. By developing the workspace environment into part of the brand, EGD effectively removes the constraints of brand manuals and showcases a portfolio that is part of the larger vision for an organization.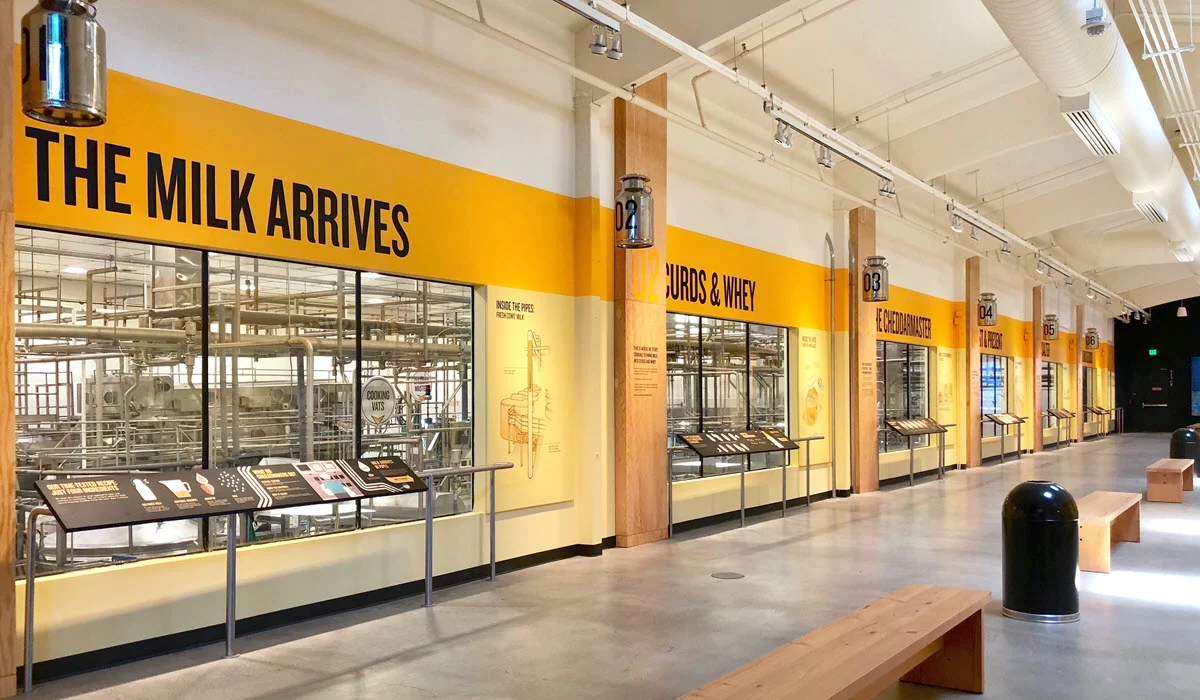 TIMELINES AND STORIES
Tell your organizational story through your brands lens. Combine historical context, key figures, and milestones into a "more than lore" presentation through wall graphics. Encourage visitors to get lost in your corporate history while providing validity to where you came from.
It isn't just about dressing up a space with a timelines, but an EGD can serve as a reminder to your team of the places you've been while establishing a clear vision for the future. It becomes a buy-in for prospects and employees alike.
BENDING TIME
As one of the most famous historical EGDs, the New York City subway map has evolved with the growth of the subway system and incorporates branding, culture, and wayfinding into one campaign.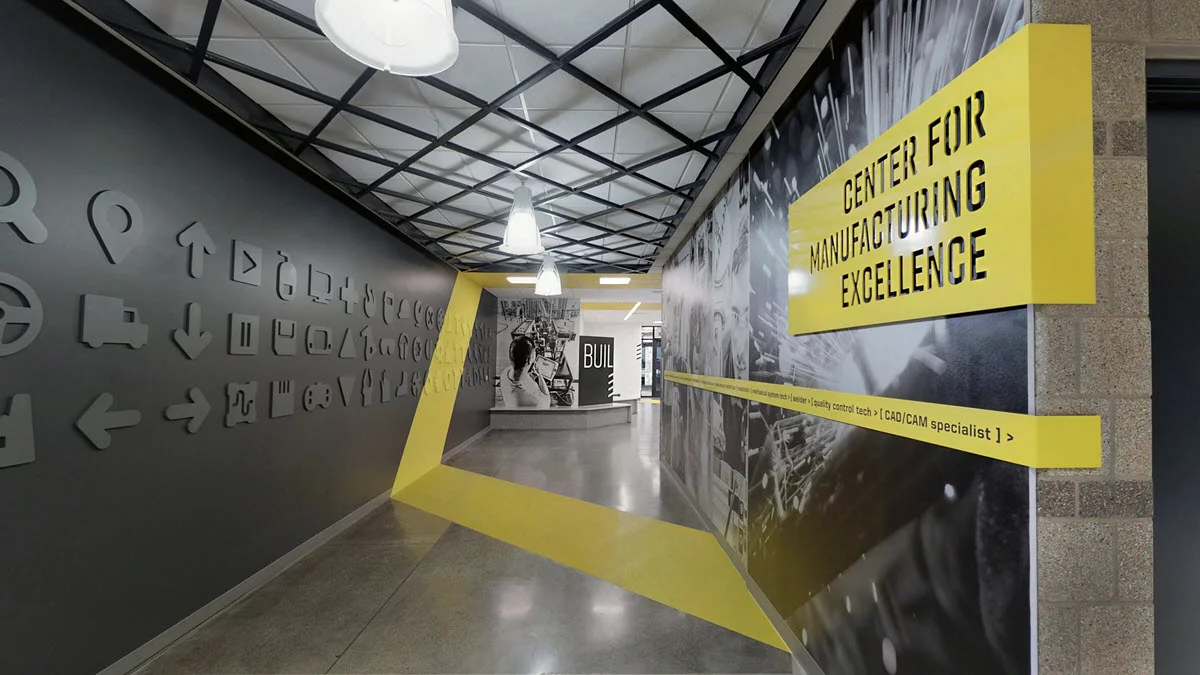 TEXTURE
The idea that 'one size fits all' when it comes to work environments is dead. The workplace design industry is filled with over simplified conversation about open vs. closed plan offices, and the truth is, it's all irrelevant. It's born out of a cost reduction mentality that permeates much of corporate America. Cost is important, but it should not be the driver. The workplace and all of its accoutrements have to support the leadership goals of the organization first.
Space is in many ways similar to fashion or technology – things go in and out of style all the time. What's actually important to understand is that each organization is different and has a set of unique requirements needed to achieve maximum performance. And their space should appropriately reflect that. Rather than arguing over open vs. closed or walls vs. no walls, we should be considering and evaluating what will create the best working environment to support the needs of the specific organization. It is important to consider where the physical space and commercial real estate can provide the best value. Build and design based on value impacts on your business, it's not all about today's costs.
A SPACE FOR TOMORROW
While EGD has been around for millennia, it's surged in the past decade to become the wall covering of choice for office spaces across the country. The primary reason is technology. Printing and substrate capabilities like large format and 3D printing provide access to limitless design ideas. The cost of developing and installing environmental wall graphics has continued to drive the industry and deepen influence with architects and commercial interior designers.
The other big change has been the workplace evolution that the tech boom has ushered in since the 1990s. Companies competed for sparse talent by offering a unique set of benefits including flexible workspaces that connect emotionally with employees. From urban industrial revival to modern and minimalistic to surreal designs, tech companies explored behavioral connections workers and their environments. Those connecting ideas like open, collaborative spaces and environmental branding have trickled down to every day businesses in nearly every market.
In the end, the wall paper glue roller isn't gone, we are just using it for a different application.
ABOUT US
At InteriorLOGIC, we build work environments. From our home office in Madison, WI our award-winning commercial interior design team focuses on creating spaces that work. We continually work to improve the end user experience with each design and our team is well-suited for challenging projects including LEED certification and sustainability projects. For more information about our business and approach, please visit www.intlogic.com.