Designing With Textures Creates Emotional Connection to Space
Before we talk about texture and the emotional effects it can evoke in an interior space, let's quickly review the concept of "elements of design". To create visually appealing commercial spaces, designers apply various elements – color, shape, texture & pattern, proportion, and light. In the future we'll be discussing the application of lines and color in commercial interiors, especially surrounding corporate branding and environmental philosophy, but today let's focus on texture and pattern.
When an commercial designer refers to texture they are referring to the surface quality of a material. Every surface – walls, table tops, floors – has a texture whether it be smooth or rough, bumpy or flat. Our perception of texture is influenced by the textures of adjacent surfaces, our viewing distance, as well as the lighting application. For example, rough surfaces seem more textured next to smooth surfaces, when viewTexed up close, and when grazed with light (i.e. lit from the back or side).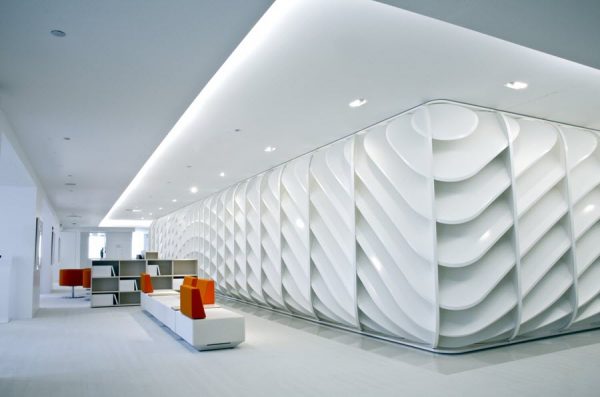 Modern interior wall with layered texture
Additionally, texture can be described as either tactile or visual. Tactile texture relates to the actual feeling of a surface – smooth, rough, soft, hard, etc. Visual texture is our perception of what a texture might feel like. In other words, we often make assumptions about the texture of a material based on our memory of touching similar surfaces.
At InteriorLOGIC, we often incorporate texture to enhance the design concept. Texture helps to differentiate various objects and surfaces, transform light, and influence scale, but it can also communicate a particular design style. For example, often when you envision a modern interior, glossy materials and minimally textured surfaces come to mind. These types of surfaces communicate a sleek and simple design style that often relates to contemporary interiors.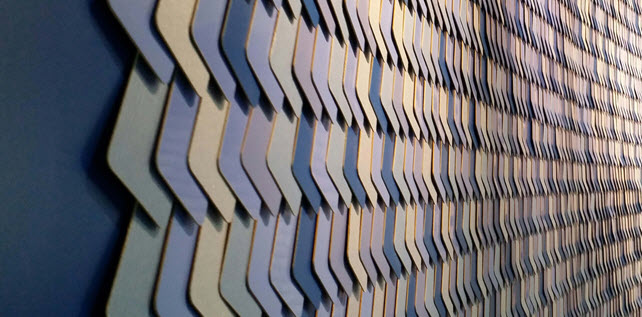 Stacked multi-colored squares enhance wall feel
Adding texture to a wallcovering, tile, carpeting, or room divider, a space can transform to include warmth, a feeling of closeness, or even airy and free. Depending on the plan for a particular space, we can incorporate elements of texture to elicit a cozy cabin feel or an edgy, creative sense. Think of the effect that an exposed brick wall, pallet planks or a 3D wall panel can have on a space you've been.
In a similar vein to texture, pattern can also define surfaces, impact scale, convey a design style, and add visual interest to a space. Although pattern can help to add texture to a space it has a very different definition. Pattern relates to graphical repetition of a on a material. Remember that texture refers to the 3D quality of a surface, where as a pattern relates to illustrative perception. Be careful when applying pattern; if it's not well balanced it can really overwhelm an interior environment.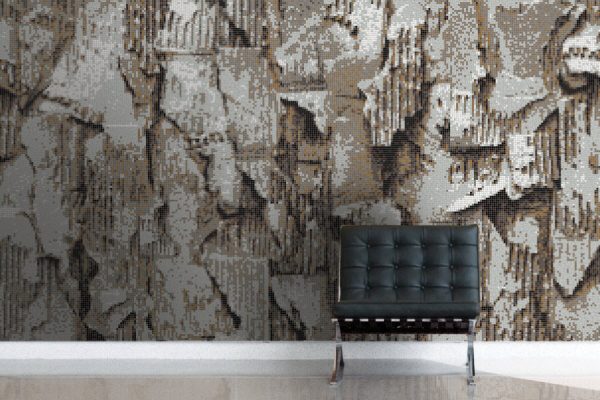 Patterned wall texture with pixelation
As mentioned, texture and pattern have a huge role in defining the design style of a space. This is why in commercial interior design, it is very important that these elements are applied in a way that relate to the corporate brand of the business. Send the right message to your customers by applying the various elements of design in and effective way.
What textures have inspired you? Are you planning to incorporate any textures in your next project?
ABOUT US
At InteriorLOGIC, we build work environments. From our home office in Madison, WI our award-winning commercial interior design team focuses on creating spaces that work. We continually work to improve the end user experience with each design and our team is well-suited for challenging projects including LEED certification and sustainability projects. For more information about our business and approach, please visit www.intlogic.com.