Take a look at our current and ongoing interior design projects.
Seven Acre Dairy – Paoli, WI
Nestled on the banks of the Sugar River in Paoli, Wisconsin, Seven Acre Dairy Company is a painstakingly restored cheese factory reimagined as a destination for travelers and visitors alike.
Here are some photos of the process and final project.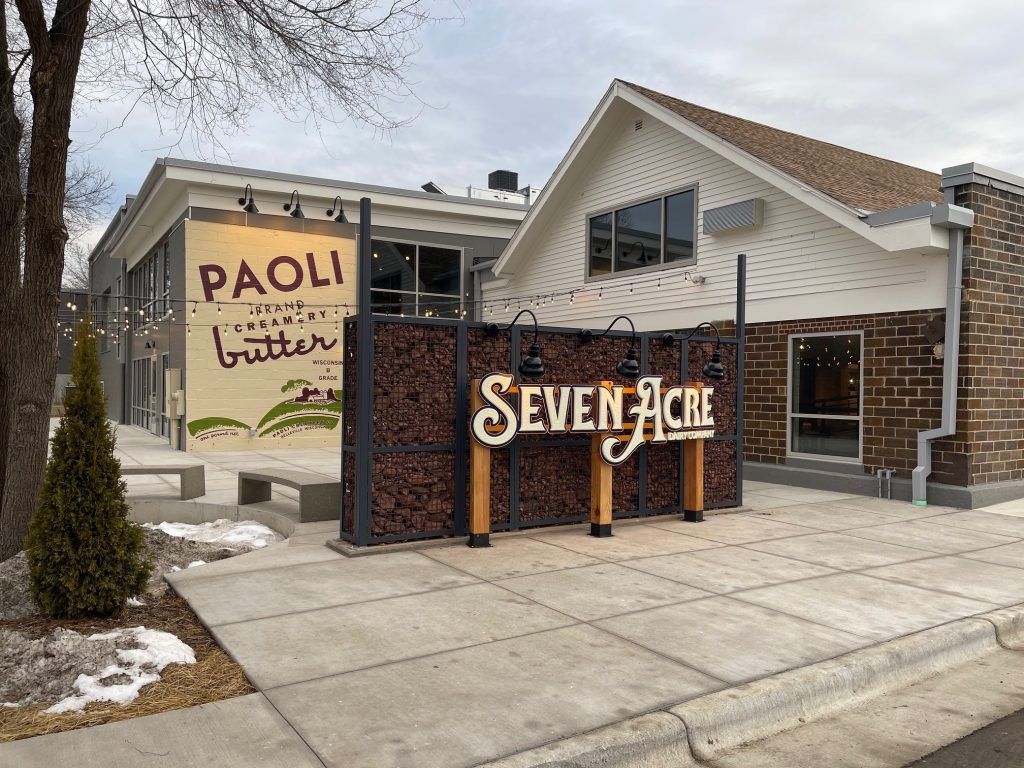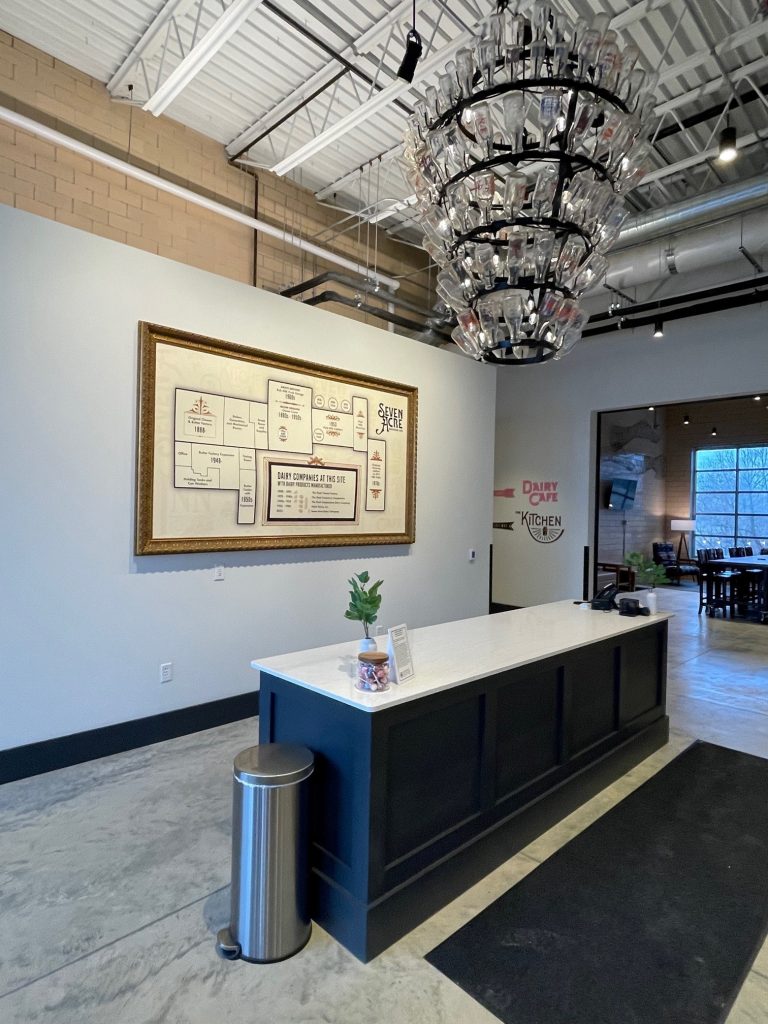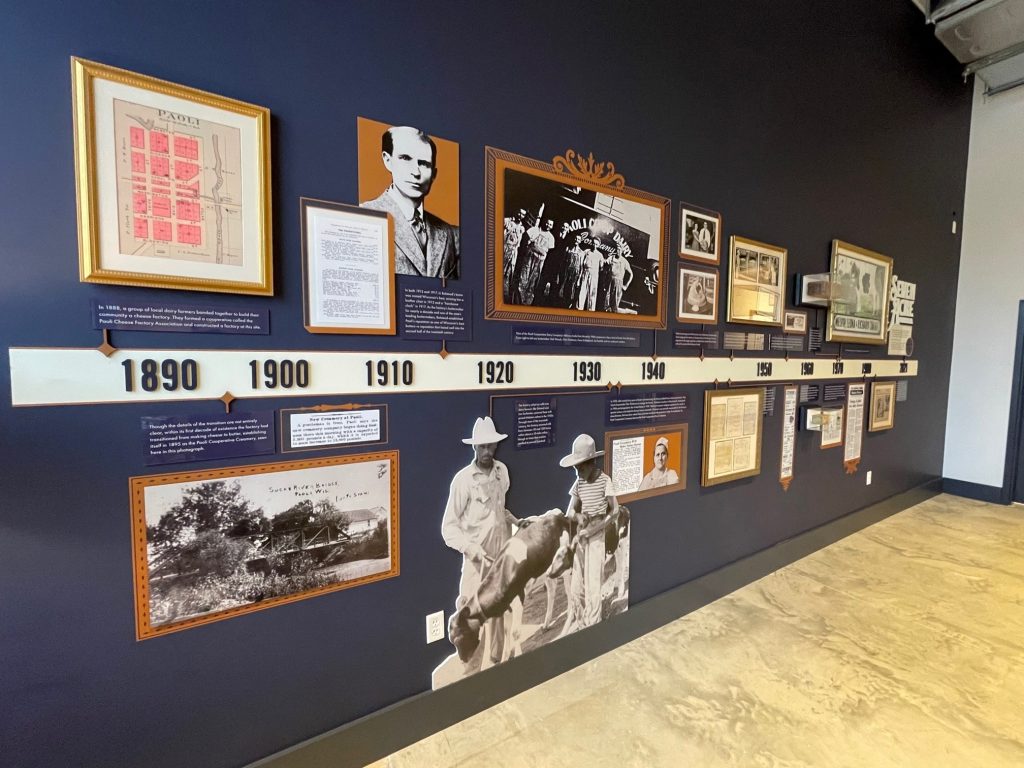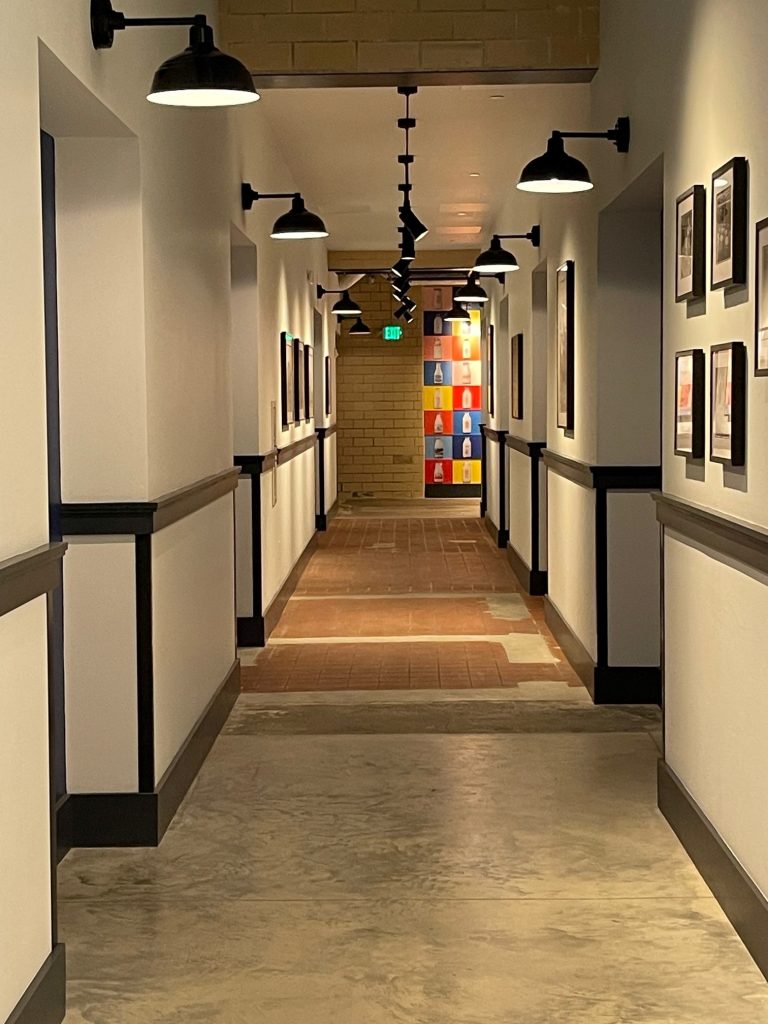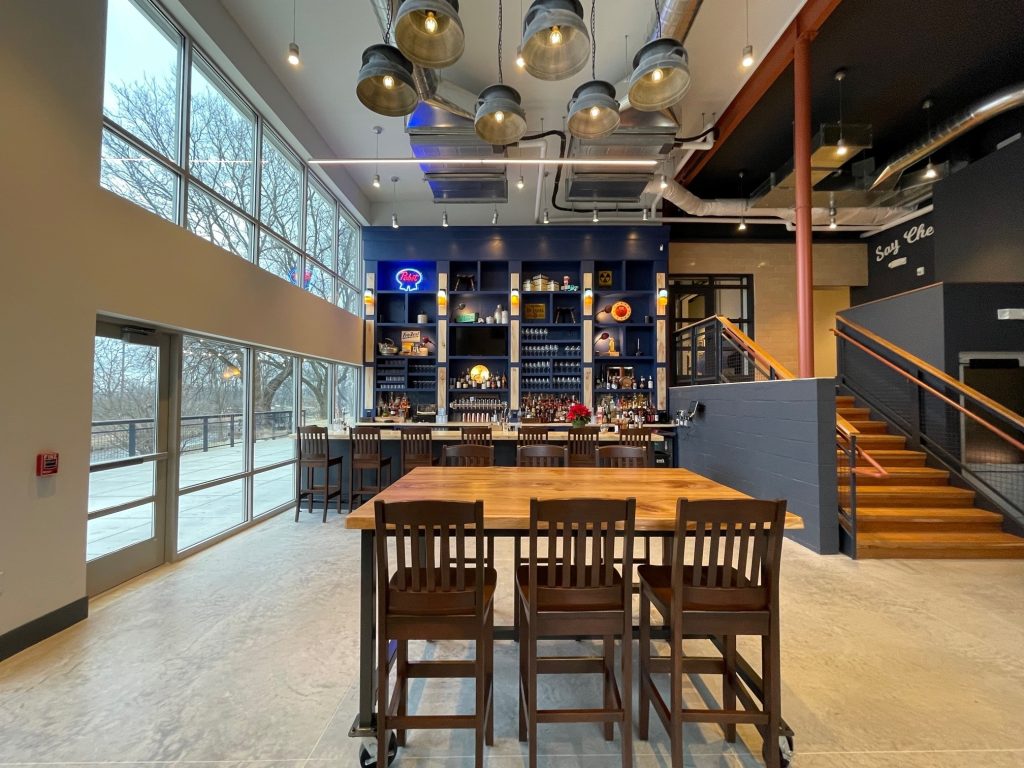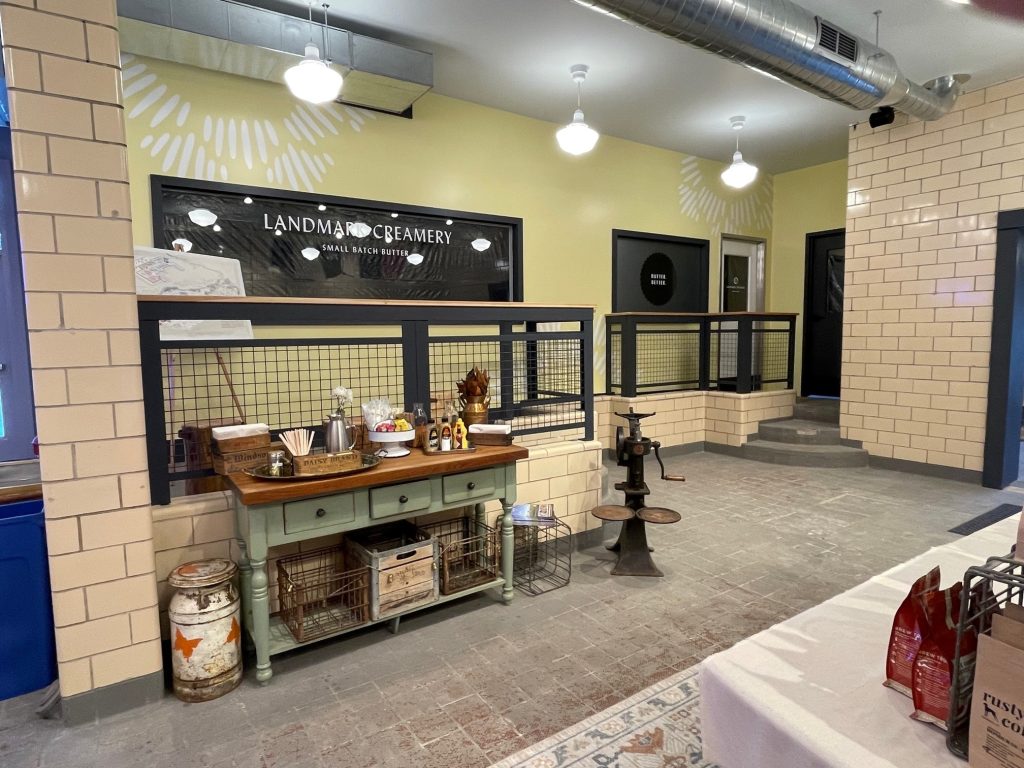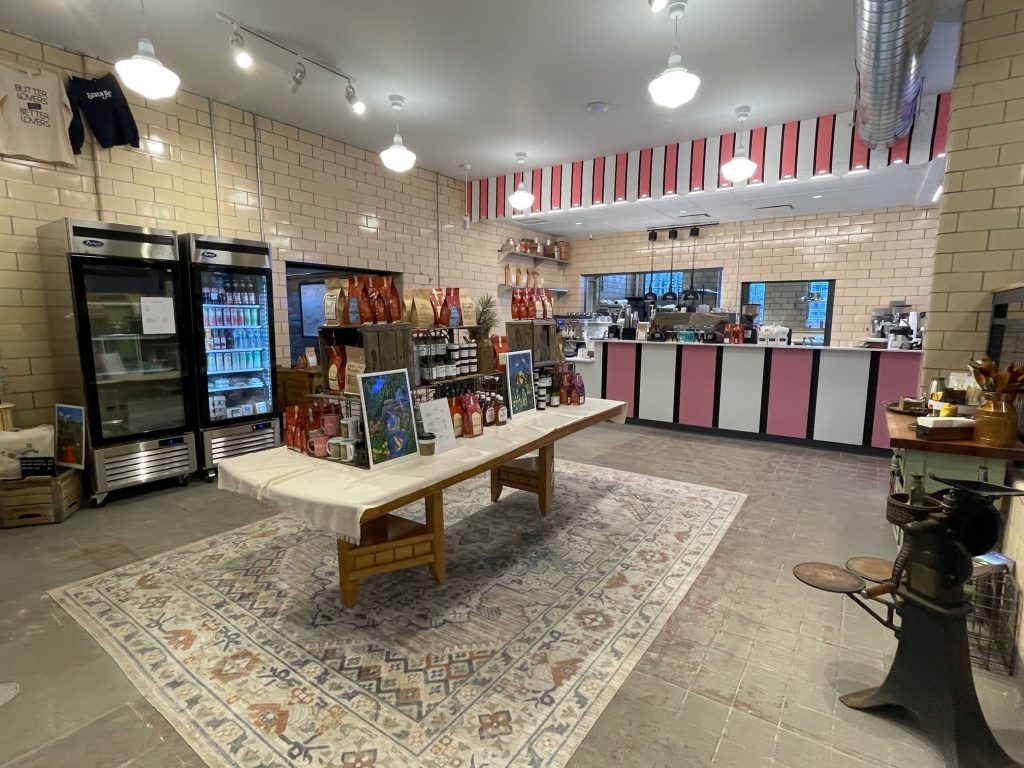 Most pedestrians passing through this rural town saw the former creamery site near the river as a ramshackle collection of buildings. The new Owners had a magical vision for the site as a destination for dairy-lovers, modern travelers and discerning diners, designed to the explicit standards of the National Trust and Wisconsin State Trust for Historic Preservation, and to the standards required to achieve the coveted 5-star hotel rating.   We were tasked with maintaining the existing interior materials and character of the dairy buildings,  featuring the views to the Sugar River meandering past the site, and integrating the many species of kiln dried wood harvested from the site as interior materials.  As the interior design lead, we accomplished all of this as a code- and ADA compliant building, and within a budget we helped to establish.
The basis of our design concept was the original historic creamery building as a destination for farmers who once delivered their milk by horse and wagon.  The collection of six additions span from 1888 to the 1970's.  The re-birth of the site, completed after two years of design and construction, was programmed to include a main entrance and greeting area for the 8-room boutique hotel, an adjacent retail shop featuring Wisconsin – made ice-cream, incorporating a micro-dairy producing hand-made butter; a farm- to- table dining area and demonstration kitchen; and a riverside bar with a separate entrance for easy access from the patio and bike trail.
First we needed to develop an as-built plan, which required crawling around in less than desirable locations to understand the various floor levels and ceiling heights, taking laser measurements, and documenting all existing finishes throughout as required for the preservation status. The as-built served as a starting point to establish a path of egress, accessibility, and overall function and flow of the diverse 21,000 sq. feet of interior space. We carved out new mechanical spaces for sprinkler systems and tanks, accommodating fire shutters and other MEP spaces for all the extensive infrastructure needs of the site. Remediation of hazardous materials was necessary prior to construction start.
To meet preservation requirements throughout the three -step approval process required by the United States Park Service, we were tasked with maintaining all original materials found in the initial survey. Matching existing materials is not allowed, but new materials can be incorporates and complimentary. The primary existing floor material was a red safety quarry tile. Concrete was used where new or patched floors were required. Existing walls were primarily a creamy yellow glazed structural block, and ceilings a mixture of drywall, or new exposed metal deck where it replaced rotted sections. All of these existing materials are visible in the original sections of the renovated building.
The bar space on the river forms the social axis from inn to public space. With its broad views of the river and patio access, it is a welcoming entrance for bikers, walkers, paddlers, foodie visitors to the demonstration kitchen, dining, and inn guests. This area features is two-story ceiling and bar, and a 24'-0 long custom kitchen hood handcrafted of hand-flamed steel framed with a forged iron structure.  Kiln dried wood from the site was used for table and bar tops, stairs, shelves, handrails and trim.
The highlight of the hotel lobby entrance is the custom 60" high, artisan-crafted chandelier form featuring vintage milk bottles and suspended over the concierge desk.  Local artists were commissioned for art, graphics, and wire sculptures, with historic images from area families and their farms  installed in the common areas and corridors throughout.
Guest rooms provide spacious sleeping accommodations.  We specified glass shower closures, Kohler fixtures and plumbing accessories, white subway tile for new walls, and hexagonal marble- look ceramic floors. The large suite has a soaking tub.  Custom framed vanity and dressing mirrors reflect within each room. All windows have luxurious full height drapery up to a height of 16'-0 to help absorption sound. Motorized black-out shades are required to meet the 5-star hotel designation, covering the random pattern of windows openings formed by the previous milk storage tanks, delivery doors, and existing glass block glazing.  We specified and managed the FF & E process. Most furniture is American-made, as is the detail of cotton and linen bedding.  Headboards are constructed from site wood.
This formerly dilapidated site is now on the National and State registers of Historic places, designated a 5-Star hotel, and as the Owners originally envisioned, and truly a dairy-lovers and travel destination. Seven Acres Dairy is now open for hotel guests and visitors. More information here: https://sevenacredairyco.com/