I
f you have thought decorating your home was difficult, decorating your workplace can be even more challenging, especially if you are lacking inspiration. When it comes to your home, the main focus tends to be your budget and figuring out how to incorporate your personal style into the design. Decorating a large office requires you to decide what makes the most sense for the space and your team.
To make this process easier for you, here are the best window shades and tips to improve your business offices today:
Simplify Your Life with Motorization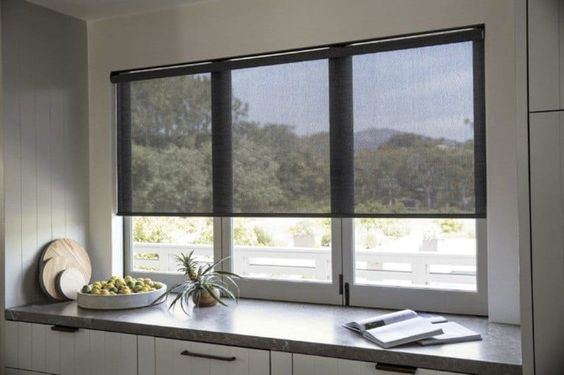 Photo Credit: Pinterest
If you are ready to enhance your blinds,  check out the latest technology advances and options just for you with new and improved motorized window treatments.  If the sun is too bright or you are not getting enough natural light, this technology makes it easy to modify them the way you prefer. If you aren't sold yet on the idea of this new technology, certain apps include the option of voice command setup that can be used directly from an amazon device or straight from your cellular device.
Aluminum Mini Blinds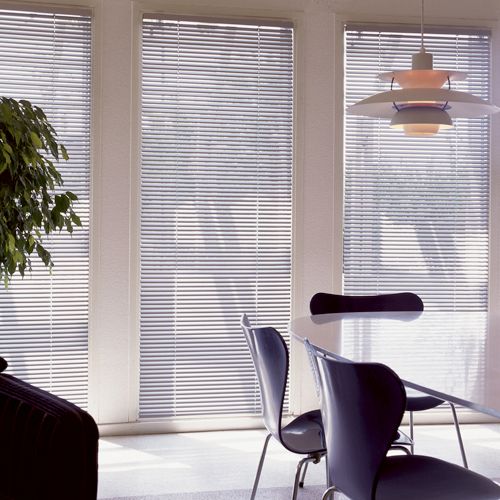 Photo Credit: Pinterest
These blinds are extremely affordable and durable and what you will find in most office spaces. You can also find modern mini blinds that are more fashionable and blend perfectly with whatever design you have for your space. Modern mini blinds are so much more attractive than mini blinds of old. They are stylish, sleek, and perfect for any modernized office area.
Honeycomb Shades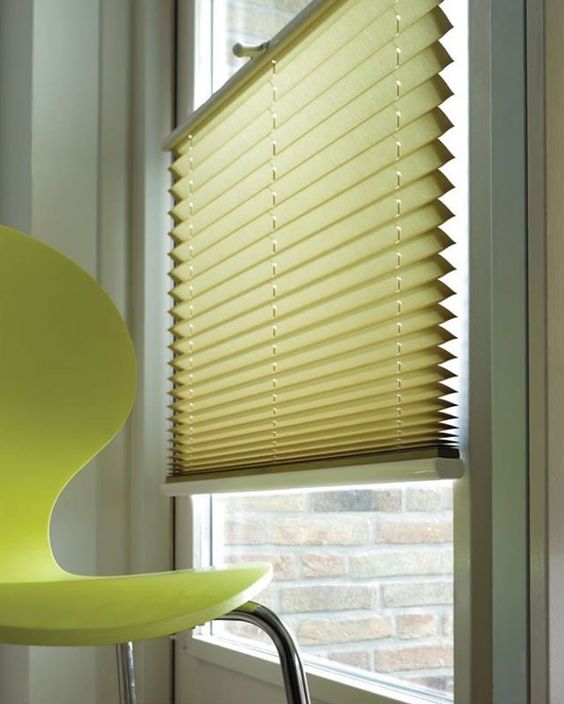 Photo Credit: Pinterest
If you need some insulation for your office windows, we suggest honeycomb shades.  By investing in honeycomb shades, you will notice your energy  bills may be lower and you will save money plus offer a clean and stylish design.  When looking for honeycomb cellular shades, consider the cell shapes because the more cells a honeycomb shade has the better insulation it will provide. A double cell shade will provide better insulation than a single cell shade and also come in different grades of light filtration. Blackout cellular shades and room darkening cell shades are excellent at blocking unwanted light while light filtering cell shades or  allow light to enter the room during the day but still provide that extra shade. Honeycomb shades come in lots of great color choices and pleat sizes vary for Honeycomb cellular shades from small pleats to medium pleat sizes to large pleat sizes just right for your office!
Faux Wood Blinds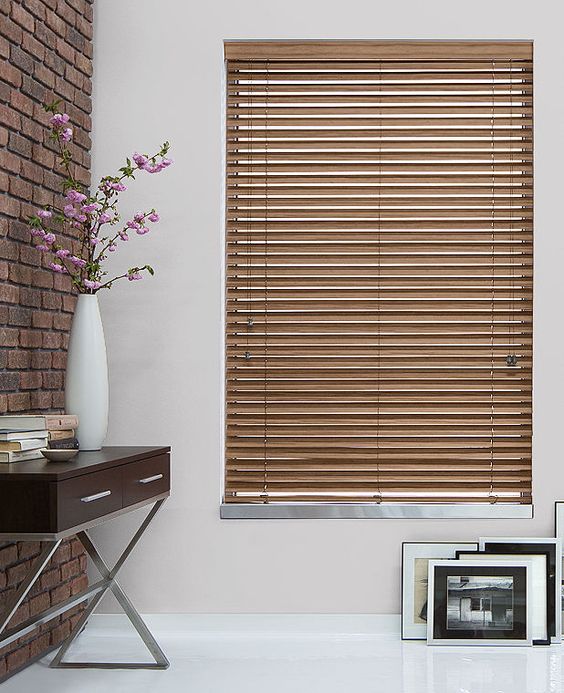 Photo Credit: Pinterest
If you like the look of real wood, but you want more affordability and more durability, faux wood blinds are the perfect option. They'll give your office space a traditional, earthy style. Faux wood blinds are quickly becoming some of the most popular window treatments on the market. While there are many inexpensive options of real wood blinds, faux wood blinds are even more affordable and economical because they are manufactured using composite materials, including vinyl and PVC. These blinds can hold up to extended periods of wear and tear without bending, breaking, cracking, or warping. In addition, they're also much more resistant to damage from cleaning solutions and liquids.
Consider a Light Blocking/ Room Darkening Liner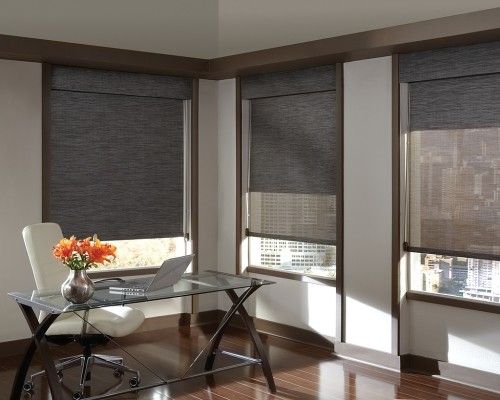 Photo Credit: Pinterest
If you live in a very bright and sunny area, you might want to consider a window treatment that comes with a light blocking liner. This setup provides you with maximum light control – from translucent to light dimming to light blocking.
Reduce Glare and Filter Light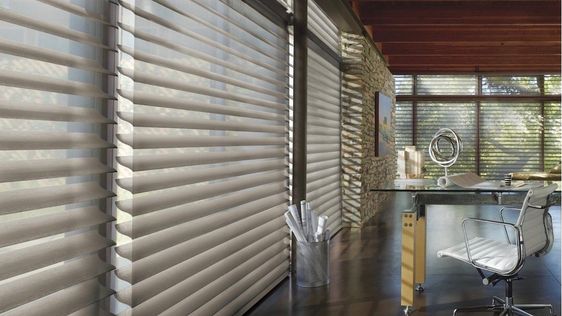 Photo Credit: Pinterest
For a commercial office environment, it's best to choose a window treatment that allows you to incrementally filter light. This will let you enjoy natural sunlight when you are reading or meeting with clients and reduce glare on your screen when you are working at your computer. Soft Shades have a unique look that is created by combining the soft folds of a classic Roman shade with the construction of a cellular shade.
Roller Shades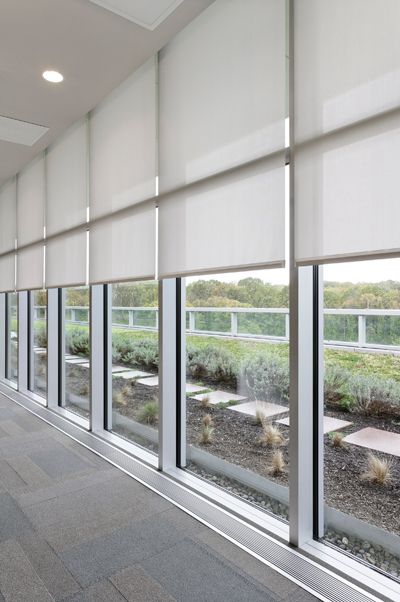 Photo Credit: Pinterest
Just like mini blinds, roller shades are budget-friendly. The simple design is modern and sleek, making it great for every window of your business office. The simplicity of roller shades makes them extremely versatile and can be mounted inside the window frame or on the outside. They are simple to operate, with the choice of either a continuous loop chain control or cordless control. For a complete light blocking solution, mount your shades under blackout drapes and add a cornice at the top of the window, preventing any light seepage.
Block Harmful UV Rays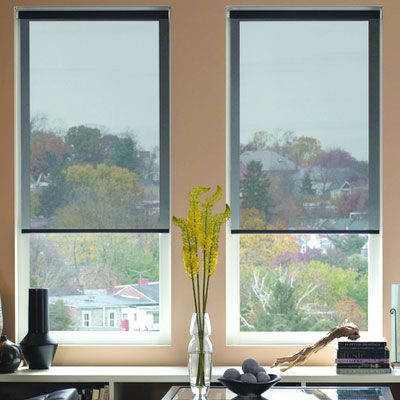 Photo Credit: Pinterest
For excellent protection from the sun while maintaining your view of the outdoors, consider a UV blocking screen shade. With a variety of transparency options, you can control the light tone for your work space.
Offering a minimal yet sophisticated look with light control, color and style, they are the perfect solar shade for any office.
ABOUT US
At InteriorLOGIC, we build work environments. From our home office in Madison, WI our award-winning commercial interior design team focuses on creating spaces that work. We continually work to improve the end user experience with each design and our team is well-suited for challenging projects including LEED certification and sustainability projects. For more information about our business and approach, please visit www.intlogic.com.