Our design team is continually seeking out trends that can help define our clients' space and culture. Each year we look ahead and consider the influences of design trends on commercial interiors for the coming design season. We've whittled it down to 8 Commercial Design Trends for 2017.
Thematically, 2017 design will incorporate modern, open spaces with flexible layouts. We'll be embracing warmth in color and material while still relying on the predictability and influence of natural light. We're seeing newer products, like LED lighting, combine with postmodern furniture and mid-century geometric patterns. The pallet is moving away from white and copper towards a vivacious blend of bright and wild colors. It's going to be an exciting design season. Enjoy.
TOP 8 Commercial Design Trends for 2017
1. COLORS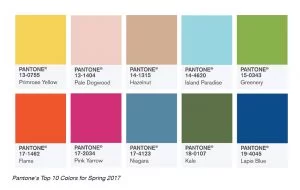 In the commercial space, there are plenty of influences on the color pallet. Architectural style, company culture, decision-maker preferences, and fashion currents all influence our color choices. In 2017, we expect vibrancy to continue to grow.
Pantone has released its 2017 color pallet which tends to be a good indicator of color wheels for the coming year. The pallet embraces natural tones, but with airy accents.
2. ECO-DESIGN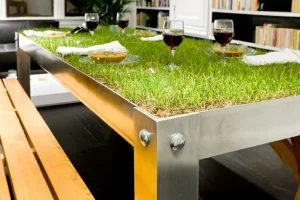 With corporations coming under increasing pressure to meet social requirements, there is pressure towards promoting eco-friendly commercial designs.
Something as simple as glass, generally considered a mark of energy inefficiency, has presented new advances in design that elevate glass as a staple of future eco-builds. As a LEED Certified design firm, we are positioned well to help navigate eco-friendly, environmental interiors.
3. THE END OF PERMANENT WORKSPACE LAYOUTS
Floor plans and private offices set the stage for commercial interiors for so long that it took a while for the industry to catch on to the latest in interior workspaces. Silicon Valley embraced the open office concept, and has blossomed into a new standard.
Not-assigned seating is the new normal and we are constantly challenged to create spaces that accommodate function and feel in the workplace.
4. COMMUNITY WORK TABLES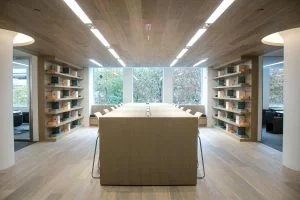 Sticking with the open-workspace theme, we introduce the community work table concept. Used for collaboration or just-passing-through employees, it epitomizes the 2017 workplace. Flexible, connected, plugged in, refreshingly open. By offering open table environments, corporate spaces remain clean and easily adaptable.
5. LED LIGHTING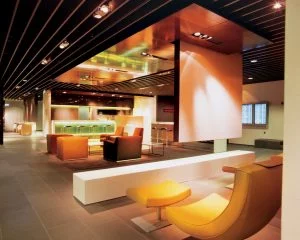 Creating enticing, activated workspaces requires clean lines and decisive lighting placement. LED lights allow patterned accents of spaces and clean functionality. Easily adaptable to many environments, and energy-friendly, LED lighting can give daytime architectural spaces a new identity in nighttime.
6. COLOR-COORDINATED WORKSPACES
A trend among larger, departmental spaces is color-coordinated workspaces. Because departments are no longer defined by hallways or office strings, creating a color coding system for your departments can simplify responsibilities and help streamline project management throughout your organization.
7. THE RETURN OF MODERN FURNITURE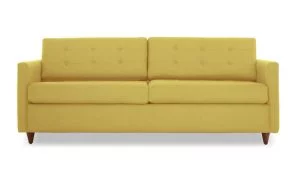 One of the more surprising trends we've seen is the rise in popularity of postmodern furniture lines from the 1960's and 1970's. Sleek, low sofas in urban-metallic colors conjures up images from an era of plush pleather and shag carpet, but it's clean and blends well with urban industrial revival from the past decade.
8. GEOMETRIC PATTERNS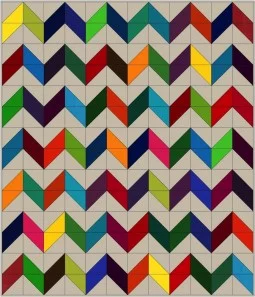 Subway tile is fading out and we're seeing some serious patterns introduced including interwoven triangles, black and gray mirroring, and subdued backdrop arrangements to complement minimalist furniture lines.
ABOUT US
At InteriorLOGIC, we build work environments. From our home office in Madison, WI our award-winning commercial interior design team focuses on creating spaces that work. We continually work to improve the end user experience with each design and our team is well-suited for challenging projects including LEED certification and sustainability projects. For more information about our business and approach, please visit www.intlogic.com.